The New Face of Digital Disruption - Technology Landscape 2020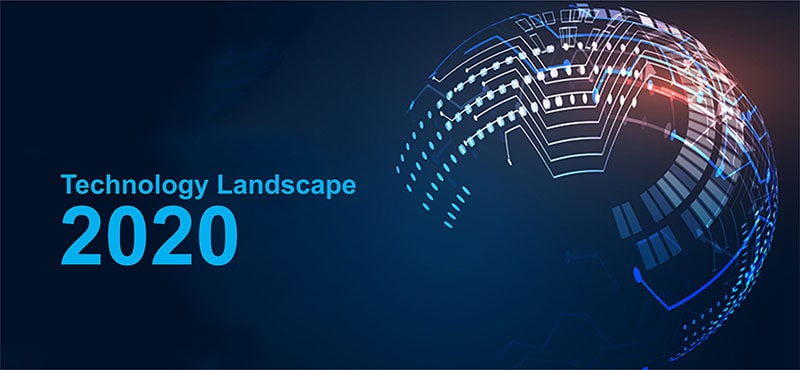 In the world of Intelligent Automation, 5G and cloud-based edge computing, businesses either learn to swim or sink in the quagmire of obsolescence. The global technology landscape is increasingly accelerating towards more disruption, this time at an unprecedented scale. What will the global technology landscape look like in 2020? How will it transform business operations and global governance? More importantly, what's around the next corner and how can you leverage it to further in your career? Here's a brief look at what the biggest names in technology are saying.
What Will the Global Technology Landscape Look Like in 2020?
Worry not, if you aren't familiar with any or all the above. Here's the lowdown:
Hyper-Personalization
From retail consumer products to governance, machine learning and artificial intelligence have created entirely new expectations of micro-customization. From chatbots to micro-service portals, hyper-personalization of goods and services is a phenomenon that's here to stay. As artificial intelligence takes over, every single sector from retail products, to financial services and from government benefits to education, will see minimal human intervention and rapidly increased hyper-personalization at the individual entity level.
Workforce Transformation
The future of work has garnered enough hype for it to become a cliché by now. As automation increasingly takes over the mundane and repetitive tasks of humans, cognitive and intelligent integrations within these will act as complements to human workers, giving them superlative productivity in all kinds of business transactions. In fact, hitherto unimaginable productivity metrics will become the new normal, as intelligent automation combines with cognitive computing, turning the average workforce into productivity superheroes.
Integrated 5G Networks and Industry 4.0
The impending global 5G rollout will bring about the much needed seamless and integrated networking that the 4th industrial revolution demands. This is besides the tremendous productivity surge that the Industrial Internet of Things, plagued so far by a lack of robust network security, is expected to bring, even as consumer IoT becomes more prevalent and industries increasingly use inter-connected robotics to eliminate human errors in production and processes.
AI-driven Edge Computing- In the Cloud!
This is set to become one of the biggest mutations of cloud computing, since, well, cloud computing. The use of complex algorithms that operate locally in conjunction with big data available in the cloud (with high proximity to the device) will result in near-real-time AI being deployed for instant intelligent decision making (think autonomous vehicles and traffic alerts on your smartphone). The AI-based EDGE devices market is set to reach 2.6 billion units by 2025, up from the mere 161.4 million units in 2018.
XaaS
We all saw this coming since the heydays of SaaS (Software as a Service). In fact, as cloud computing acted as a harbinger to PaaS (Platform as a Service), it was only a matter of time before Big Technology would move on to making Everything as a Service (where X stands for any function). Combined with the power of artificial intelligence and cloud computing, containerized functions will be made available to businesses or individuals, with intelligent, automated transactions to boost. The result? More productivity and more reliance on technology than the world has ever seen before.
At the heart of this landscape are a certain set of individuals working relentlessly to bring these technologies to the fore. With every innovation, the rules are reset, along with the skills required to engineer and implement them. These individuals are currently Artificial Intelligence Engineers, and employers all over the planet are racing against time, and each other, to hire the best skilled and prominently certified among them. Want in? Get on board with the world's only specialized AI professional certification today!