How AI is Transforming the Education Industry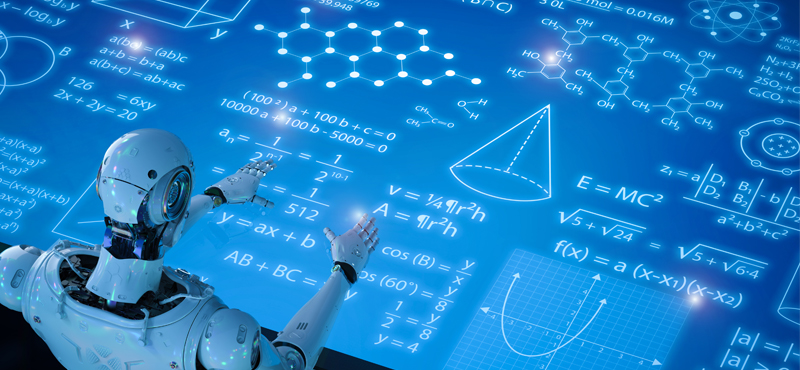 There is a popular media narrative that AI will take over teachers. If anything, AI will be a new tool in teachers' toolkits. Teachers spend a good portion of their time reeling with administrative burdens. AI will not replace them but free up their time to focus on what they do best – helping students grow to comprehend the world. ARTiBA explores the impact of Artificial Intelligence in Education, its future, and the ongoing AI and ML innovations in the sector.
Artificial Intelligence is not just about Robots. It is an advanced technique that customizes the experience of various industries; among them is the education sector. The advancements in AI are offering more convenient and personalized options to various learning groups, teachers, and students.
Artificial Intelligence is an emerging technology, which is changing the future of the education sector by turning the traditional methods of gaining knowledge into a comprehensive way of learning with the help of augmented reality and simulation tools.
According to a report from Artificial Intelligence Market in the US Education Sector, it is expected that AI will be growing in the education sector at a high rate during 2017-2021 by 47.5 percent. Based on a survey, Markets and Markets predicted that the global market size for AI in education will reach around $3.68 billion by the year 2023, and Market Search Engine estimated it to be worth $5.80 billion by the year 2025.
Applications of AI in the education sector
Artificial Intelligence technology is revolutionizing the educational sector in many ways. From customizable learning interfaces to digitizing the textbooks.
AI in education sector is enhancing new ways for students to achieve success. The word smart content is quite popular because it makes the process of learning a lot easier. AI facilitates the students by offering a personalized smart study material by breaking down the textbook where the students can quickly understand the concepts. AI improves the learning experience by making customizable learning interfaces and digital content, which is applicable to the students of different grades. It creates comprehensive content by summarizing vital points and highlighting important lessons. Also, creates audio and video content for better understanding.
With help of AI systems students can get an enhanced learning experience. As the platform digitizes the textbooks and gives students access on different devices from anytime and anywhere. This benefits students who are unable to attend classes directly.
One of the best things about AI solutions is that they can translate the learning materials into various other languages. This will allow foreign students to study those courses that are not available in their residing countries. This in turn gives rise to an interactive community for students of various ages and grades. These aspects help students to learn much quicker and reach their academic goals in a better way.
How is Artificial Intelligence collaborating with teachers?
According to an interesting survey conducted by Ofsted in the year 2019, teachers usually spend minimal time on planning their lessons, and less than half of their time on actual teaching.
The artificial intelligence solutions fill the gaps between learning and teaching. AI offers personalization, efficiency, and streamlines admin works, by giving teachers more time to better understand and adapt. It also offers a better experience for schools, teachers, and students.
AI will help teachers to offer personalized teaching experiences by creating easily digestible content. By leveraging the attributes of machines and teachers, AI will help the education sector to offer the best outcomes for students.
How AI is transforming the learning experience for students?
The AI solutions customize the studies based on the student's specific requirements. From kindergarten to graduation it offers a better level of individualized learning. Few of these are already applied in the forms of games, quizzes, software, and other adaptive learning programs.
The personal recommendations, customized tasks, interaction with digital technologies are a part of a better engagement approach that students can experience by using AI. Not just this, the better engagement approach allows the students to feel special and also increases their interest in studies.
AI for online learning allows students to have access to learning 24/7. The students can plan their day without being linked to a certain place. The students are free to study on the go, at any time they want. They will have the flexibility to build their own schedule.
The AI offers tailored lesson plans to meet the requirements of every student. The approach and pace of learning is adjusted in such a way that it meets individual students requirements.
The AI technologies offer smart and innovative learning platforms for the students. It gives access to education for the students with special needs: visually impaired, deaf, Autism Spectrum Disorder (ASD). The AI systems understand the requirements of students and respond effectively.
Education is limitless. The AI solutions offer the best support to eliminate geographical boundaries. Any student can gain access anytime irrespective of their location and can attend classes, get notes, give exams too. This technology facilitates learning from anywhere across the globe.
Current AI-based platforms in education
There are many organizations, which have understood the potential of AI in Educational Sector and are developing AI-based platforms that can track student progress, identifies knowledge gaps and other mental health issues like anxiety, depression, stress and provides real-time feedback that helps studest to improve. Some of those include:
Cognii has successfully implemented the virtual learning assistant for K-12 and higher education institutions, and corporate training companies. Its AI virtual learning assistant gives conversational technology to every student. The assistant also offers real-time reviews and also one-on-one tutoring.
Place of Origin: Boston, Massachusetts, USA
KidSense educational AI platform is specially designed for children. The speech-to-text tool uses AI to convert a child's speech into text which is helpful for taking notes, practice vocabulary, and also to take tests. Usually, it is quite tough to translate the children's speech. The AI technology in the KidSense platform uses algorithms that can accurately translate the child's speech.
Place of Origin: Irvine, California, USA
Quizlet uses machine learning and data from millions of study sessions to offer students the most suitable study material. It offers one-on-one learning for every student through a personalized assistant, which helps the students to stay motivated in their learning process. It also offers an adaptive study plan and notifications through its latest feature called 'Quizlet Learn.'
Place of Origin: San Francisco, California, USA
What is the Future of AI in the Education sector?
Though the adoption of Artificial Intelligence in Education is slow, one can expect great advancements in the future. It will offer a vast range of services from automation to security.
The future of AI in education is that it actively helps educators to manage time for allocating homework for students as well as to organize tests. The AI offers quick recommendations to minimize the gaps in learning. Currently, the AI is used for grading multiple-choice tests, but very soon it will be closely assessing the written responses as well. The AI drives to automate admin tasks more effectively. It creates efficient admissions and enrollment processes.
The core objective of Artificial Intelligence in Education is to optimize the routine processes, and to enhance their speed, accuracy as well as efficiency. The implementation of AI in day-to-day activities will result in better and more accurate results. This technology speed-up the checking of examination sheets, grading papers, and other tasks which usually consume more time and are quite slow when done manually.
The data and payment security are the biggest concerns for the education sector. They usually have a lot of sensitive data related to students, admissions, enrollments, attendance, faculty, exams, and more. Using AI systems can help to eliminate the risk of data loss and any other kind of cyber-attacks.
The AI in Educational Sector gives smart settings and configurations, which offer end-to-end security to the payment gateways. The security concerns related to students' fees payments, teachers, and other staff member's salary payments will be tackled effectively.
Conclusion
Artificial intelligence is slowly innovating the education sector. It stands to change the way educational institutions and teachers do their work and revolutionize how students learn. With AI on the horizon, one can confidently say that the education sector will look a whole lot different a few decades from now.